The Privitera spaces host the "circular" design by Giorgio Caporaso for Lessmore
DDN Phutura | Innovative and technological solutions for a perfect balance between human being and nature
Privitera Eventi La Fenice greenhouses | Piazza del Castello | Milano
April 9th - 14th 2019 | 10.00 am - 10pm | free admission
Talk show "Beauty and eco-sustainability"
12 April 2019 8:00 pm - conference area of DDN Phutura in Piazza Castello
with Letizia Fontanelli marketing manager of Privitera Eventi
Mariella Milani of ITalents, journalist and lifestyle critic
Giorgio Caporaso architect and designer of Lessmore
Giacomo La Bua architect and designer of Labu @ Lab
Inside the DDN Phutura event, an exhibition dedicated to solutions for living and contemporary living, La Fenice greenhouses by Privitera Eventi hosted the green furnishings in 100% recyclable cardboard by Giorgio Caporaso for Lessmore. Among these is the More Desk Plus table, Tappo the coffee table with lichens for a new concept of 'nature-oriented' beauty and functionality and X2CHAIR - chaise longue & armchair, More-Light bookcase system and More Stender coat hanger, made for the occasion in a special edition with gold leaf finishes.
The two fabulous greenhouses La Fenice by Privitera Eventi, created during the Fuorisalone in front of the Castello Sforzesco, were among the undisputed protagonists of # DDNPhutura2019. The greenhouses were the perfect stage for a week of events and Design talks in a location of absolute excellence!
The greenhouses, furnished with the new brand Metropolitan, at sunset were lit by colorful play of lights and imaginative performances by artists and musicians and hosted a talk area, with meetings on the themes of eco-sustainability and the new humanism, and an area dedicated to the press and professionals. During the "Beauty and Ecosustainability" talk show the speakers discussed about circular design and circular economy.
During the Design Week, DDN Phutura took place in the area next to the Castello Sforzesco, from Piazza Castello, to via Beltrami, up to Piazza Cairoli: a path that was articulated for about 6,000 square meters, including spectacular and immersive installations to tell the relationship between human beings and the environment, making the best use of technology.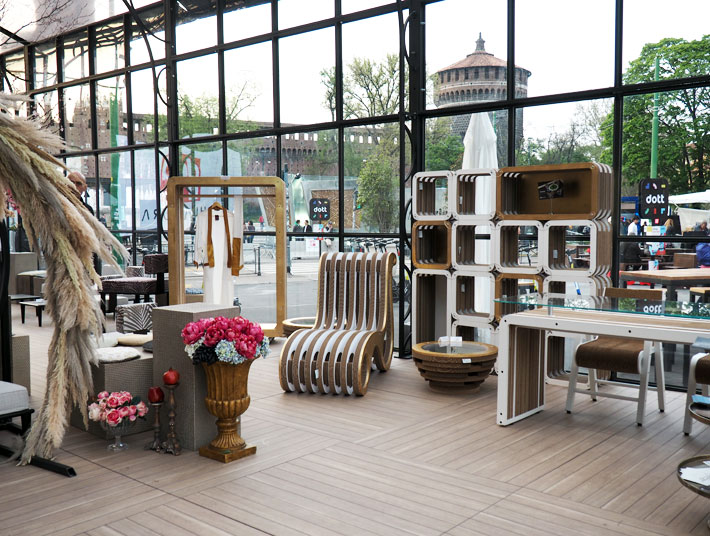 For press folders and high resolution images send an e-mail to: