ORIOCENTER, THE ECOCENTRE
Studio Caporaso partner of Ecocentre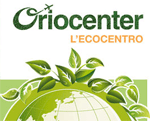 The objective of the Ecocentre is to provide clear answers and to present practical and concrete solutions able to create eco awareness in daily life.
The starting point and basic element of the project in the presence in the Gallery of innovative products, services and technologies marked by strong features of eco-compatibility and eco-sustainability.
To enter into the spirit of '"eco-technology" in a new way.
Oriocenter and its Gallery will have a décor especially created for the event with plays of light and strong contrasts to bring to life four theme areas whose protagonists are the 4 vital elements of our ecosystem: Air, Water, Earth and Fire to create an exhibition itinerary for the presentation of products, ideas, technologies, "good practice" solutions and commercial offers.
Studio Caporaso presents the "MORE" and "X2CHAIR", made out of a special kind of cardboard, ecological and recyclable. MORE and X2CHAIR are two pieces of eco-design marry sustainability and design, in a
clever way and at the right cost. Neither of the two systems require high maintenance: each module can easily be repaired or replaced at a low cost.

For press folders and high resolution images send an e-mail to: