MORE
2008

PROJECT: modular furniture with unlimited assembly options for living and public spaces. Based on a module in recycle wood or cardboard, the easily assemblable forms can be rearranged over and over.
More is easily dissembled and made from recyclable materials.
CREDITS
design
– Giorgio Caporaso

International patent application filed
NEWS
More has been exposed at:
Sogni di cartone - La sostenibile leggerezza del design
Varese, Villa Recalcati
10 - 25 April 2013

Milan Design Week 17-22/04/2012
- Change Up! con Caporaso Designnegozio FIVETONINE - c.so Garibaldi 42
negozio FIVETONINE - c.so di Porta Romana, di fronte al civico 54
Milan Design Week 17-22/04/2012
Percorso d'arte tra le biblioteche milanesi.
Biblioteca Valvassori Peroni,
via Valvassori Peroni, 56
Natural Green at macef Buyer's Club - Macef 2012
26-29 gennaio 2012
Buyer's Club – Natural Green - Pad.4
Fieramilano - Rho
Ri... come - Conoscere e giocare con i rifiuti
Mostra ludica su consumo critico, riduzione, recupero e riciclaggio dei rifiuti.
17 -29 gennaio 2012
Villa Recalcati - Varese
piazza Libertà, 1
Future Green 2011
November 1st
Dubai Marina Mall
More is part of the design collection of the project Akille.it
"Live and Think through Paper and Cardboard, Between Art and Design"
Museo Diocesano, Milano
Corso di Porta Ticinese, 95 - Milano
12 April – 29 May 2011
More on the TV set of Centovetrine from 11 June 2010
H2O - New Scenarios for Survival
12 - 21 April 2010
Acquario Civico di Milano
Via Girolamo Gadio, 2
POSTI DI VISTA > GREEN BLOCK
"SOSTENIBILITÀ A TUTTO VAPORE. (Sustainability in overdrive) OTTAGONO"
Fabbrica del Vapore, via Procaccini 4 / via Luigi Nono 7 - Milan
14 - 19 April 2010
POSTI DI VISTA > GREEN BLOCK
"+LCD -CO2. Dal dire al fare. Che fare? Step by Step verso la sostenibilità. BUONI ESEMPI"Fabbrica del Vapore, via Procaccini 4 / via Luigi Nono 7 - Milan
14 - 19 April 2010
"Natural Inspirations - Designing for a greener future"- Imm Cologne 2010 the international furnishing show.
19 - 24 January 2010
Koelnmesse
Convention: Sustainable Design Milan
18 December 2009
Milan - Palazzo Turati
Ecocentre
Shopping Center Oriocenter - Orio al Serio (BG) July-December 2009
SIA GUEST Rimini Italy
International Hospitality Exhibition
21 - 24 November '09
Stand I'KI art & design
Host in translation -
MILANO Rho Fiera
23-27 October 2009
Abitare il Tempo - Verona
17-21 September 2009
STAND I'KI art & design

Milan design week 09
22 - 29 April 2009
Zona Tortona Design
via Tortona 12

IMM Cologne
19 - 25 January 2009,
Koelnmesse
100% Design
18 - 21 September 2008, EARLS COURT, LONDON
MORE is the winner of the Design Competition "Tommorow's Design Philosophy: "Match-making" - 100% Design London 2008
"MORE" at ICFF New York, 17 - 20 May 2008
More - multiform ideas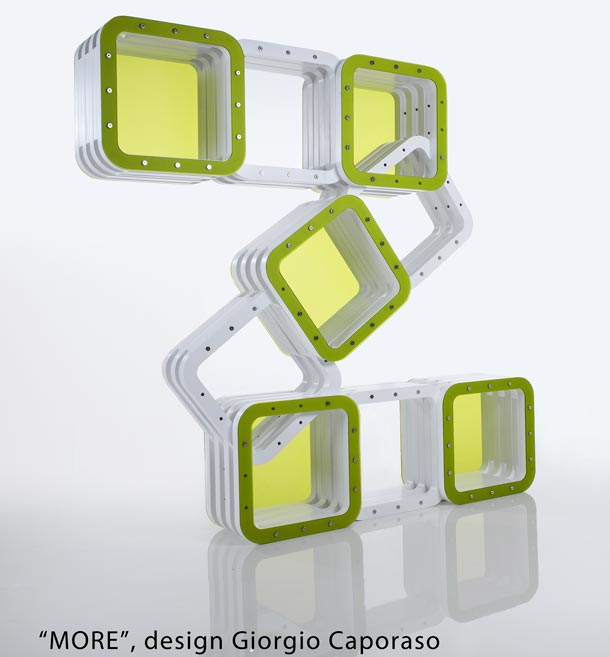 More
More is an extremely versatile system of modular furniture for internal and external environments with multiple functions, enabling one to interpret their space freely and dynamically, changing the face of the home environment or public spaces. It offers an infinite variety of solutions to its users in the widest imaginable circumstances.
Modularity has been the key to this project, it enables one to create furniture of various shapes and dimensions, it can be used for different contexts, starting with a few base elements that are easy to assemble.
The project centred around the theme of transformability starting from the design of a simple unit, and in the same time close attention was paid to experimenting with new tactile, visual, aesthetic and chromatic effects.
The furniture can serve as shelving, a resting platform, display or even as a seat. It can act as a suspended wall unit, an open bookcase against the wall, or it can be used as a dividing wall to separate the spaces in a room or other environments, thanks to the innovative possibility whereby it can be anchored or suspended from the ceiling.
More is the response to everyday life that demands an ongoing flexibility of spaces and adaptability of furniture to meet the ongoing changes in life style
The product is based on the use of units which can be readily combined without needing any special or complex equipment and which can be built up as desired, so providing highly versatile and interesting solutions which are not only aesthetic, but - given its self-supporting nature - also functional.
One can combine the base elements as desired, using the materials, finishes and colours on disposal with total freedom, expressing individual creativity and taste for personalizing ones environments.
Starting from a single unit, one can construct many different shapes with an infinite amount of possibilities according to the space one wishes to enhance. Each element measures 45 x 45 x 5 cm. and thanks to its specific dimensions, it can be used in any way to create resting platforms, seating and containers of various deepness, depending on the way in which the elements are assembled using the threaded ropes or pins that are all parts of the system.
There is no limit to the number of ways in which the units can be assembled. The creations are never permanent and can easily be changed, as the finish of each unit enables it to be used as a final element. Linear, corner and overhang compositions are possible.
ECO DESIGN
PRODUCT DESIGN
INTERFACE DESIGN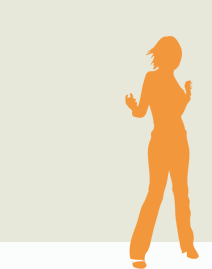 contact: