mood @ moom | Food Fashion & Furniture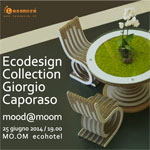 mood @ moom | Food Fashion & Furniture
Wednesday June 25th 2014, starting at 7:00pm
MO.OM Hotel
via San Francesco d'Assisi, 15
21057 Olgiate Olona – VA – Italy
Food, Fashion and Furniture: three diamonds in the 'Made in Italy' crown become the 'stars' of the June 25th event that will bring Giorgio Caporaso's design, chef Giorgio Perin's prestigious cuisine and Cinzia Rocca's fine fashion to a place that turns hospitality into a refined encounter between art and wellbeing: the MO.OM Eco Luxury Boutique Hotel.

Thanks to the collaboration between Giorgio Caporaso, internationally admired and awarded Italian architect and designer, and MO.OM Hotels, the three sectors which export Italy's prestige around the world are combined for an experience in which perception and awareness, of the environment and beyond, showcase their most elegant aspect; expressing the emergence of a new cross-disciplinary approach. United on this occasion,
Food-Fashion-Furniture will also demonstrate a way to welcome the international audience, which will be visiting Italy for Expo 2015, with a particular predisposition to food and environmental issues.
With his furnishings (manufactured by Lessmore) Giorgio Caporaso will create an especially convivial setting in which chef Giorgio Perin will express his creative genius with finger food creations especially designed for the event. Tables with distinctive sensory elements made with eco-friendly materials and living lichens will bring the sensation of a soft meadow indoors to enhance the cuisine and flavors.
With a move towards fashion, Caporaso's design will then encounter the other major star of the event, the world-renowned fashion designer Cinzia Rocca, setting up a special exhibition space for her garments, which are also admired by Hollywood stars for their elegance, exquisitely fine tailoring and top quality fabrics.
Taste, fashion and design create a suggestive and appropriate environment to foster wellbeing, not only through the senses and the reference to nature, but also thanks to a change in the air, created by of the coffee table Tappo.
This event aims to demonstrate how style, in cuisine as in fashion, is expressed not only through the dishes and the clothing but also through the atmosphere of the spaces where they are presented, the design and the way in which the product is offered to the potential client.
Starting at 7:00pm on June 25th, at the MO.OM Hotel in Olgiate Olona (Varese) a multidisciplinary event, in which the beauty of Italian minds come together to share design: whether the raw material be cotton, cashmere, tomatoes or corrugated cardboard, Italy is the only place in the world where the long-standing tradition of the country as a museum is translated into a blend of cultural vivacity that creates a unique style, capable of telling endless stories.
R.S.V.P. T+39 02 34530468

For press folders and high resolution images send an e-mail to: