Giorgio Caporaso, cardboard and the principles of sustainability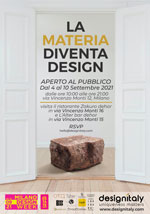 FUORISALONE MILANO
WHEN MATERIAL MEETS DESIGN
4-10 September 2021
Design Italy Showroom | Via Vincenzo Monti 12, Milano
Exhibition of Lessmore, OTQ Design, Cyrcus Design, DygoDesign and daily live events by artists and artisans in the Crafts' Room.
"The material is nothing without good design"
Design Italy selected six manufacturing companies that interpret this concept at best through materials' innovation and innovative production processes to create extraordinary design objects.
The different materials with typical characteristics of eco-sustainability and upcycling transform with surprising methods and results.
Design Italy is an e-commerce platform dedicated to the diffusion of Made in Italy contemporary design works throughout the world
For press folders and high resolution images send an e-mail to: