Eco-sustainable Exhibition furniture by Lessmore with Olivares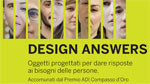 DESIGN ANSWERS | Exhibition carried out by ADI (Associazione per il Disegno industriale)
Twenty objects awarded during the various editions of the Compasso d'Oro.
Belvedere di Palazzo Lombardia | 39th floor
17 - 22 April 2018


Entrance from Piazza Città di Lombardia | Nucleo 1, Palazzo Lombardia - Milan
OPENING 17 April • 17:00 hours
Opening time:
17, 18, 19 April: 6 pm - 10 pm |20 April : 15 - 22 hours | 21, 22 April, 10.00am - 10pm
Design Answers carried out by Regione Lombardia and ADI (Associazione per il Disegno industriale) will be hosted at the 39th floor of Palazzo Lombardia, head office of amministrazione regionale lombarda.
The exhibition illustrates the role of design in responding to the daily needs of people through the exhibition of twenty objects awarded in various editions of the Compasso d'oro.
Design Answers will show the products united by the ADI Compasso d'Oro Award of the companies Alias, Artemide, B & B Italia, BTicino, Caimi Brevetti, Desalto, Flos, Kartell, Luceplan, Magis, MDF Italy, Sambonet, Tecno, Tubes Radiatori, Zanotta , Zucchetti, Kos.


The exhibition is curated by Andrea Rovatti, Antonella Andriani and Ambrogio Rossari.
Graphic design: Andrea Rovatti
Exhibition design: Massimo Farinatti
Press Office: Patrizia Ledda

Studio Giorgio Caporaso has collaborated with the Association for Industrial Design and the Lombardy Region for the preparation of the exhibition. The exhibition project involved the use of recycled and recyclable materials and energy-saving LED lights.The eco-design brand Lessmore, managed by Caporaso, together with its partner Olivares srl, provided the exhibition furniture
For press folders and high resolution images send an e-mail to: